Joined

Jul 22, 2016
Messages

8,530
Location
Fluorescent minerals and UV lights can be a fun and interesting side hobby to metal detecting, so I thought I'd start a thread where any other fluorescent mineral "rock hounds" or people simply interested in considering the hobby can join in and post.
Now I am very much a rank amateur when it comes to fluorescent minerals and UV lights and my collection and UV lights are pretty modest but still fun nevertheless !
This hobby, like metal detecting, can be enjoyed by those with a modest budget for hobby stuff, but, just like pricier detectors, there are more powerful SW UV lights for those who can afford such, though not necessary to enjoy the hobby.
I will post pics of my UV lights and many of my fluorescent minerals both how they look in normal light and then in UV light, some fluorescent minerals only glow under LW (Longwave) UV light, some only under SW (Shortwave) UV light and some will glow under either. (I'm still learning more so others who are more educated in this field are welcome to fine-tune my info and add more detailed info if they wish)
My modest collection is made up of mostly smaller pieces from about 1/2" to 1 1/2" (some smaller, one larger) all of them came from elsewhere (some companies include samples with a purchase of their UV light) I am still researching places locally where I might be able to hunt for some fluorescent rocks as most (if not all) states should have at least some fluorescent minerals, and some more than others.
Note: I do not have professional level photography equipment so my pics are not as good as they could be, but please keep in mind that even professional level photos of florescent minerals under UV light can't offer the same "WOW" effect of how they look seeing them glow in person, kinda like how videos of a fireworks display simply can't compare with seeing it in person.
Two photos of each sample side by side, one in normal light, one under UV (either LW of SW)
LW = Longwave UV SW = Shortwave UV
(ones that glowed under both LW or SW I opted to use LW as my LW light was more powerful)
(some rocks might not be in the exact same position for "natural light" and "UV light" because some of the UV pics I needed to take with my smartphone camera instead of my USB camera to pick up the glow better)
Calcite (red) Willemite (green) (Franklin, New Jersey) - SW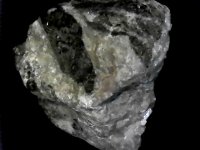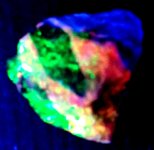 Scapolite (Quebec, Canada) - LW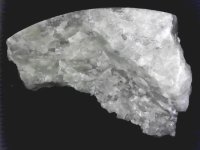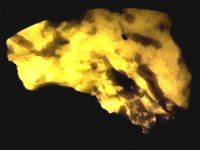 Willemite (green) Calcite (red) (Franklin, New Jersey) - SW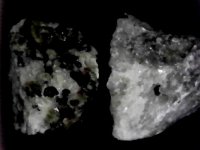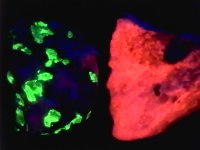 Calcite (Nuevo Leon, Mexico) - LW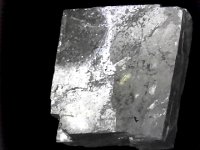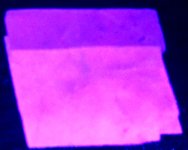 Willemite Franklinite (Sterling Hill mine, New Jersey) - SW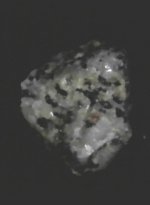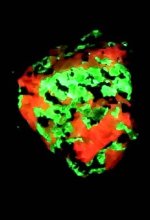 Willemite (Huachuca Mountains, Arizona) - SW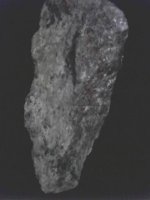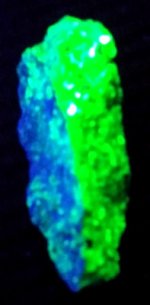 Calcite (Pima County, Arizona) - SW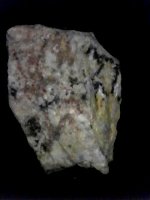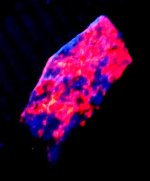 Aragonite (Lucerne Valley, California) - LW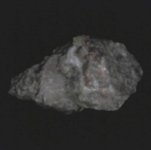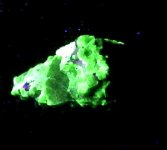 A marble made from vaseline glass (not a "mineral" but still interesting !)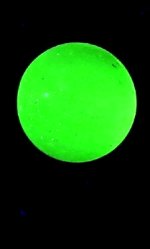 (I had some other samples I didn't include as they were somewhat similiar and one sample with a really neat blue streak that did not photograph well, if I can find any fluorescent minerals locally I'll add them later)
Here are a couple pics showing my UV lights and rock hammer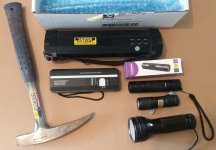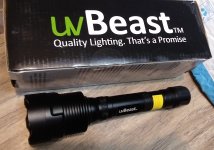 The larger shortwave tube lamp I have that uses 3 "D" batteries is a 6 watt version they no longer seem to sell, but it is very similar to this 11 watt version they sell at the link below:
https://www.ultraviolet-tools.com/ultraviolet-lamps-/enhanced-11-watt-shortwave-midwave-longwave-uv-lamp.html
I have their smaller 4 watt shortwave tube lamp that uses 4 "AA" batteries:
https://www.ultraviolet-tools.com/ultaviolet-lamps-4-watt-6-watt/4-watt-shortwave/longwave-uv-lamp.html
I have smaller UV flashlights that are longwave, 395nm and 365nm.
(Note: as far as LW UV 395nm is not very good for mineral use, 365nm is much better)
The most recent UV flashlight I bought is the powerful UVbeast which is 365nm longwave. (see link below for details)
https://www.amazon.com/gp/product/B01CV1XW5K/
On my possible "wish list" for later consideration when my hobby budget replenishes

is the one at the link below:
https://www.midnightminerals.com/product-page/wtc-the-triple-5w
Here's some fluorescent mineral related links:
https://franklinmineralmuseum.com/
https://www.sterlinghillminingmuseum.org/warren-museum-of-fluorescence
https://www.minerals.net/resource/property/fluorescence_phosphoresence.aspx