Last week while checking out various ads on the local Craigslist, I read about a lost ring not too far from where I am currently staying. I emailed this feller and he gave me some information to go on...but he wasn't really sure exactly where he lost it.
Turns out, after 5 or 6 emails and 3 trips from me on little hour long hunting trips that we ended up narrowing the area down to less than 50 to 75 yards!

This ring was lost on a bike/walking trail. I had to hike it about a mile before I even got to the area on my 2nd and 3rd hunts. Plus the swinging and the walk back...oh..did I mention the freakin' hot-rocks and and ore slag on the ground?
Well I knew this would be easy as pie for the Ace250 if, and only if, I got a swing over the ring. This ring was a fair sized 10K men's college ring. It's gonna ring or ding or dong or however you non-Ace guys call it. But it's gonna be a solid repeating nickel.....and it's gonna sing that song I love...."Maybe Gold"!I got everything else discriminated out.
Well today, in the heat and humidity, I start off down the trail. I keep walking a nice steady pace...might as well get a workout while I'm here. I got the Ace250 under one arm and the other hand I have my loaner ProPointer, from Sniper1Moore, (THANKS again) and my handy Lesche in case the old ladies walking the trail get frisky with me. The recent rains and the mowing crew got me thinking this ring may have gone down in the mud...so I might have to dig a little.
Anyway, I get way down to the area I haven't tried yet. The first couple of emails, the owner didn't think it was this far down the trail. I do about 30 yards of swinging the edge of the trail and a wooded rail that has been put up because of a 45 degree slope away from the trail. It's basically a wooded guardrail. The thinking here was to check one side going down the trail and then on the slope on the way back.
Well after 30 yards the wood rail ends and another starts in about 50 yards. Now I can get completely in the grass and rocks next to the trail. I can get full swings here to speed the hunt.
And, wouldn't you know it, about 20 feet into doing this I find the ring. AND, I eyeballed it. I was just getting ready to swing back the coil to my right and I see this big sucker laying on top of the ground. WOW...it's been there two weeks, on the surface, multiple downpours, and the mowing crew. Not to mention lots of walking traffic on this very popular trail.
Well here she is. A 1998 10K 13.98 gram Indiana University MBA Class Ring!
So, of course, I swing over the ring...and for you Ace250 guys...solid repeating nickel.....ding...ding...ding...ding...like the dang dinner bell.
Here's another shot with a wheat to show the size.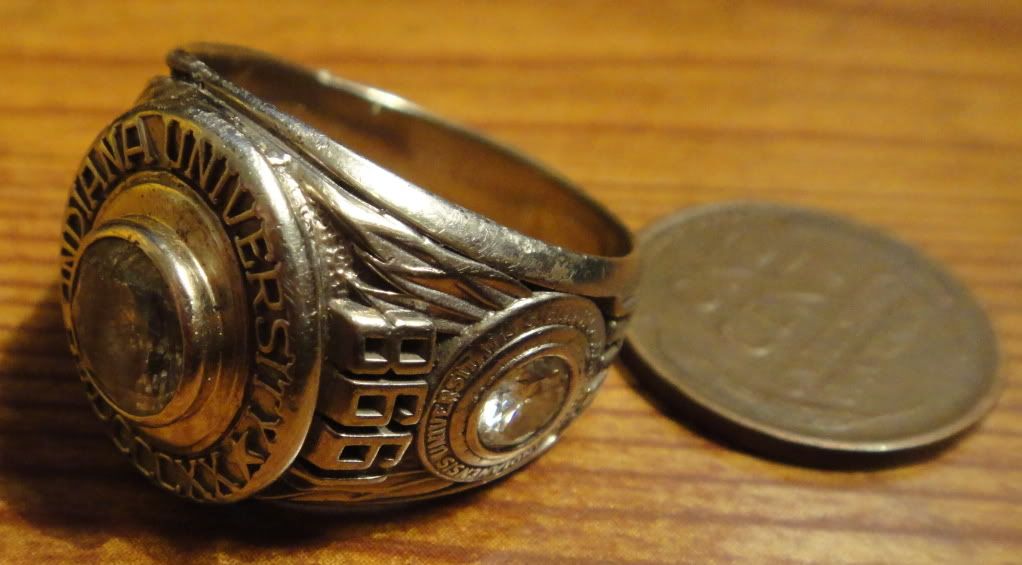 Time to get out of the sun and call the owner. I'm thinking Steak and Shrimp.

I get him on the phone and the first thing I ask him is what was the reward he was offering for the ring. I never paid that much attention to his ad. He still doesn't believe i found it. He said he's been back there 5 different times looking for that ring. He's now telling me the reward is $200!

I told him that was a bit too much...and like a fool I said I didn't even think the ring was worth $200 in melt....ouch...WRONG more like $300+!
I told him I didn't do it for the reward...but he said his wife bought it for him after 5 hard years to get that MBA from IU. I told him i didn't want to insult him by not taking the reward. I told him I'd take half. Even then I don't feel right taking $100! I burned about $5 in gas....didn't really burn down the batteries on the Ace....and I burned a few personal calories! (I might add one evening I lost about a pint of blood from the skeeters!)
Anyway, ring #14 was a cool find!
To celebrate, I hit one of my favorite parks for a little hunting and found 63 coins for $3.88!